Lately I've been really into playing with my makeup and getting creative with my Spring makeup looks. I went through my entire makeup collection and while I managed to declutter and get rid of a lot of items, I also rediscovered old favourites of mine. I've also tried and tested so many amazing new products over the past couple of weeks including a few items that have really stood out for me. I'm all about those bright lip shades paired with a neutral base when it gets warmer outside. I think it looks so pretty and can really transform a basic outfit into something more special. Now, read on to find out more about my current favourites!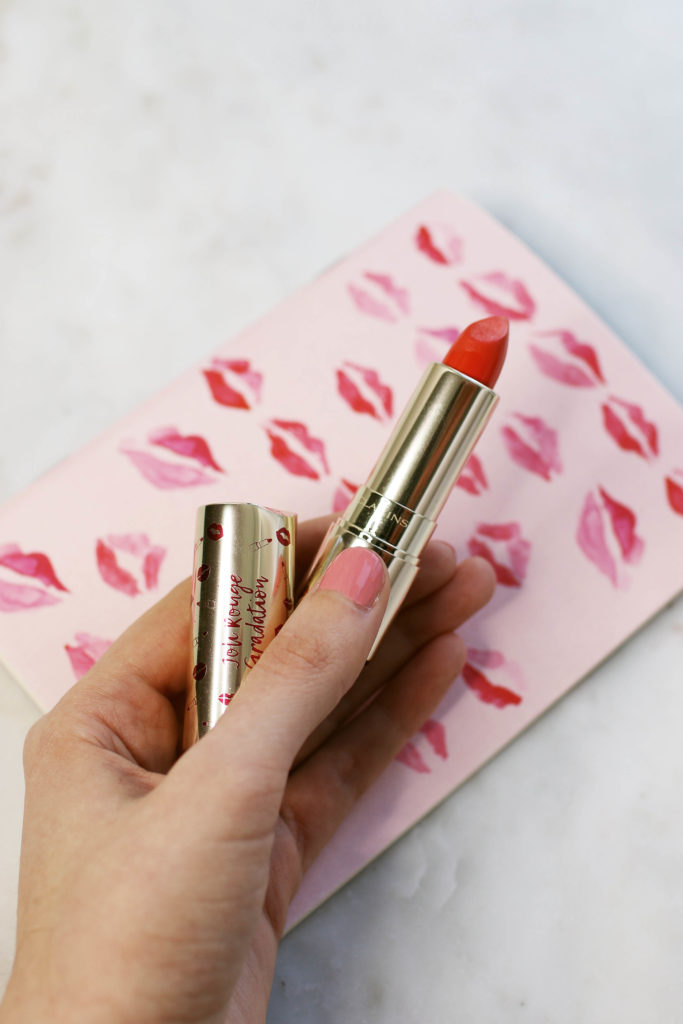 my spring makeup menu
I managed to uncover the Clarins Joli Rouge Gradation Lipstick in the shade "Coral Gradation" and I instantly remembered why I love this shade so much. First of all, the formula is absolutely incredible – it glides on so easy on the lips and feels instantly comfortable leaving a beautiful, glossy finish. I don't know if they still have this specific shade as it was a limited edition but you can find so many amazing similar shades on their website.
Another favourite from Clarins are their Ombre Satin Eyeshadows especially the shade "Glossy Brown". I have talked about these eyeshadows in one of my recent posts where I introduced you to the entire new Clarins Spring Makeup Collection and I have been wearing this shade ever since. I love the subtle yet flawless base it leaves on the eyelids. It's such a pretty everyday shade and I can highly recommend it to anyone who is looking for new a natural eyeshadow for Spring. It's truly beautiful!
Another favourite is actually a nail polish. I have been wearing the Anny "but first shopping" polish almost every single day as I find it's such a pretty colour for Spring. It's such a pretty coraly-pink as you can see in the picture.

Shop My Spring Favourites